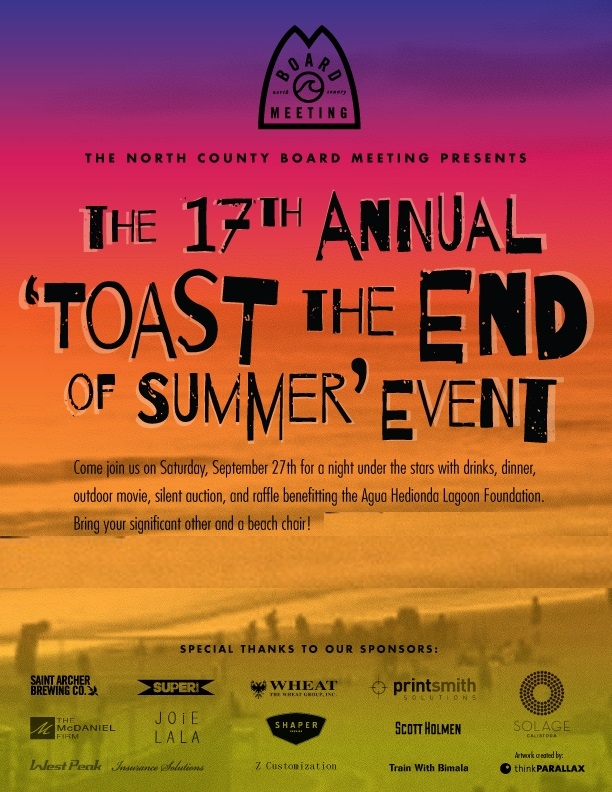 The North County Board Meeting is proud to sponsor 'Toast the End of Summer 17' benefitting the Agua Hedionda Lagoon Foundation. Before the NC Board Meeting existed, there was a group of north county businessmen/surfers that would hole an annual party to close out the end of summer. Over the years the event has grown to benefit local charities and this year it will be the Agua Hedionda Lagoon Foundation. This 400-acre lagoon is home to a wide array of flora and fauna and invites us to appreciate our water resources through such uses as a YMCA day camp, recreational boating, a mussel and oyster aquaculture facility, a white-sea bass hatchery, a power generating plant, the new desalination plant, and of course the beach at Tamarack where the lagoon rises and lowers with the tides. To help preserve the lagoon and all it's resources, the North County Board Meeting and it's members are raising money through a silent auction to help with it's educational objectives. Sponsors of this year's event include:
-Scott Holmen Designs
–SUPERbrand Surfboards and Apparel
–West Peak Insurance Solutions
In addition to the silent auction, the North County Board Meeting special event will include an outdoor movie, drinks, dinner, and of course networking. This year's event sold out in record time so make sure to attend next year's Toast the End of Summer event in September 2015!